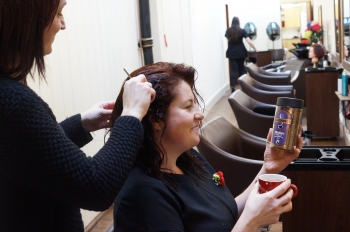 Ilminster Fairtrade launches Fair Hair Campaign - November 2016
Fair Hair is an initiative designed to encourage Ilminster's Hair Salons to swop their usual teas and coffees for Fairtrade, when offering refreshments to their customers and staff. Participating salons display the "Ask for Fairtrade Here" window stickers. So, where you see the sticker, ask for and enjoy a Fairtrade 'cuppa'. Little changes such as this can make a big difference and Ilminster Fairtrade urges people to support local traders and salons who are working to put Ilminster on the Fairtrade map.
While last year for the 'Big Break' David Westwood wrote and recorded his own Fairtrade song for us.